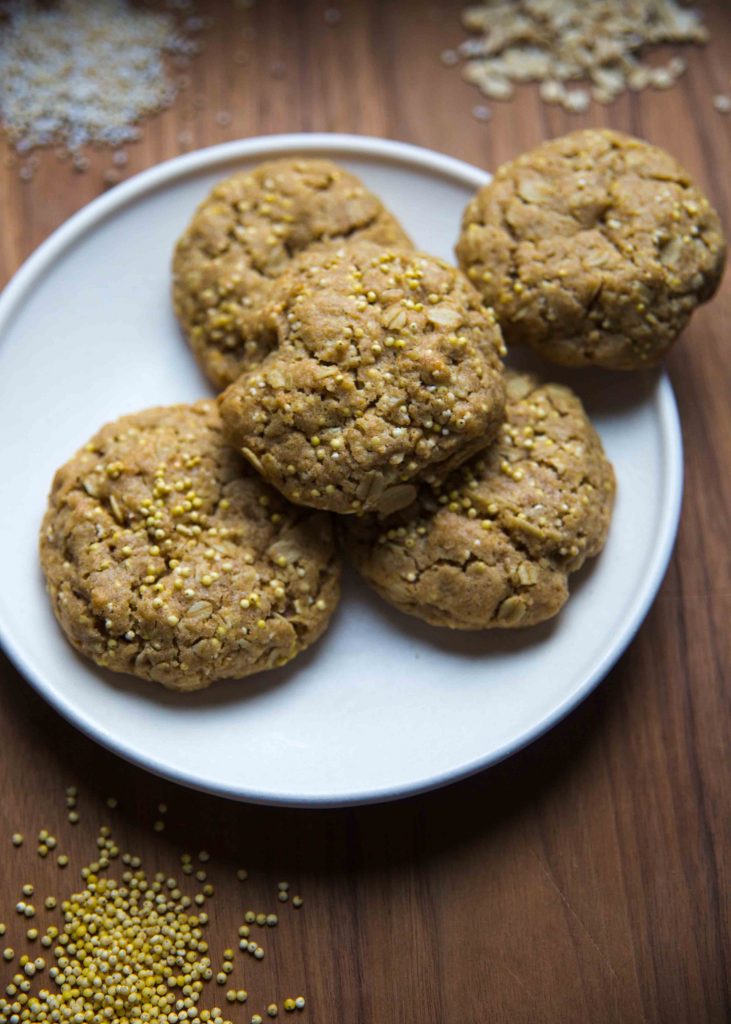 What do you want in a breakfast cookies recipe? Perhaps something that is moderately devilish but definitely swings to the angelic side of eating well first thing in the morning? When I set out to match the taste idea in my head with a recipe for your kitchen it started with a banana breakfast cookies variation that after taste testing, I liked enough to include below.
The reason I kept riffing though, is I wanted these beauties to be all about the whole grains—kind of like how raisins can get in the way when what you want is to be all in on those toasty oats!
So I'm giving you both versions as a way to choose your own adventure. The banana breakfast cookies remind me of banana bread in cookie form (I'd encourage you to adulterate them with finely chopped toasted walnuts).
The Four Grain Breakfast Cookies recipe secret ingredient that gives them je ne sais quois is enough Sunbutter to make things interesting (and add an additional protein boost) while keeping that cookie all about the four grains. And, what are those four grains?
Millet! Here it shows up raw, adding a delightful crunch to each bite. I also like to sprinkle it on top of the cookies for garnish (though you could swap that garnish for Maldon sea salt, cacao nibs, or demerara sugar).
Amaranth! This whole grain is popping with protein (I couldn't help it. I'm here all week, folks.). Popped amaranth adds extra nuttiness and protein to the cookies (protein in the morning is what Vonnegut meant when he talked about breakfast champions).
Oats! How could they not be in the breakfast cookies recipe? After all, they might easily be THE whole grain most eaten at breakfast AND in cookies. Double your pleasure— dunk them in 3-Minute Homemade Oatmilk.
Spelt! I love spelt flour. It was my flour of choice in Steeped (often cut with varying amounts of all-purpose flour as texture and taste dictated). It just tastes amazing and I like that its texture is toothsome without being heavy.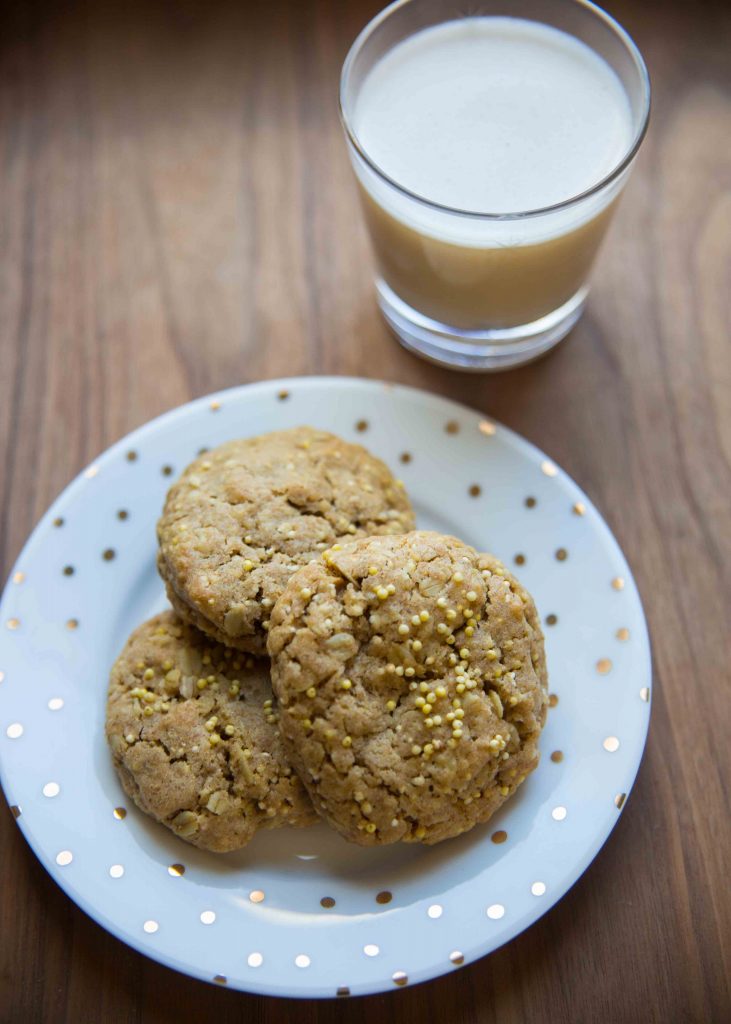 Ready to start baking?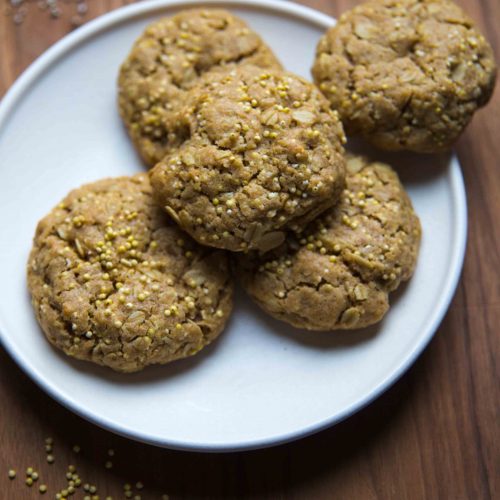 Four Grain Breakfast Cookies Recipe
Equipment
Stand mixer with paddle attachment (if you have one)

Whisk + Bowls

Parchment paper-lined or Silpat-Lined Half Sheet Pan
Ingredients
1

cup

spelt flour

1/2

cup

all-purpose flour

1/4

teaspoon

baking powder

1/4

teaspoon

baking soda

1/4

teaspoon

ground cardamom

1 1/2

cup

unsalted butter

1/3

cup

granulated sugar

1/3

cup

brown sugar

1

large egg

1

tablespoon

sunflower seed butter (Sunbutter)

1

teaspoon

pure vanilla extract

1

cup

rolled oats

1/4

cup

millet

1/4

cup

popped amaranth
Instructions
Preheat oven to 375F and line a sheet pan with parchment paper or Silpat mat.

Whisk dry ingredients (spelt flour – cardamom) for 30 seconds in a medium bowl.

Beat butter with sugars for 2 minutes until fluffy and light.

Mix in egg completely. Mix in Sunbutter and vanilla completely. Stop machine and scrape down bowl if needed.

Add in all the flour at once. Pulse until just combined.

Fold in the oats, millet, and popped amaranth. Portion dough in 2 tablespoon mounds spaced 2 inches apart on sheet pan.

Bake for 12 minutes, turning pan halfway into baking time. Cool on the pan for 4 minutes before moving to cool completely on a wire rack (or devour them).
Notes
If you want to do the Banana Breakfast Cookies variation, two main changes happen to the recipe above.
Divide the butter into 1/4 cup that you will first brown and cool in a skillet (while the remaining 1 1/4 cup gets beaten into the sugars).
Omit the sunflower seed butter. Add in 1 really ripe (I mean BLACK) banana (because the starch in unripe bananas convert to sugars and that makes them amazing for all things sweet, then.) You'll chop the banana and then add it into the cooling brown butter, during which time transfer both to a bowl and mash with a potato masher to resemble scrambled eggs. You'll add in the banana after the actual egg and vanilla are completely combined into the batter, but before adding in the flours.