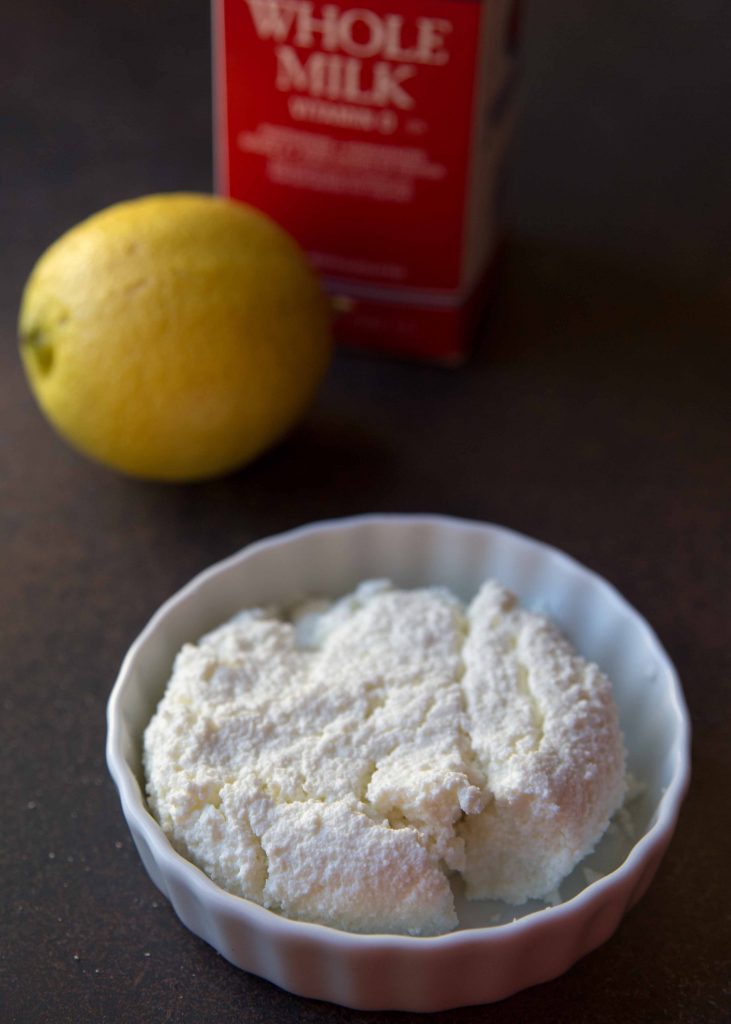 There is something to be said about 3 ingredient recipes. I'm going to call homemade ricotta a four-ingredient recipe, citing one of the ingredients as cheesecloth since it's an indispensable part of the process (but then again, you could omit the salt and we'd be back at 3 ingredients). Tasting store-bought ricotta that's commercially manufactured and just made ricotta is akin to visiting the Venice in Las Vegas and then actually getting to traipse down one of the alleyways in Italy firsthand. There's no comparison as to which yields the richer, fuller experience.
The first time you make ricotta at home, you'll be shocked how easy it is. Then, the second time, you might double or triple your batch to go on and layer within sheets of lasagna noodles or to dollop on pasta that gets a quick trip under the broiler for a bit of color. Once you know how to make it, a world of possibility opens up.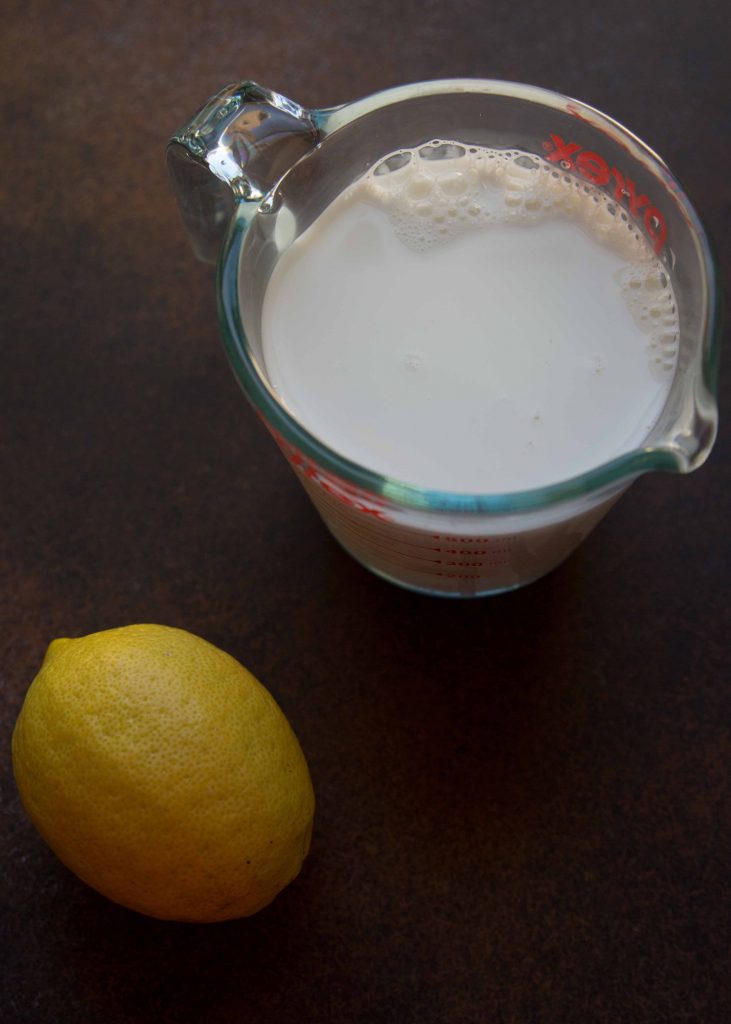 Can You Make Ricotta from Almond Milk?
I would suggest that you'll achieve more of a ricotta-like consistency from soaking raw almonds overnight and then pulverizing them with enough fresh water to help the blades chop down the soft nuts into a ricotta-like consistency. Adding in a squeeze of lemon juice and salt flavors the nut ricotta. You could try this method also with cashews too, which is a milder flavored nut that yields a creamy consistency. Then again, recently in Seattle, Chef Brandon Rouge blew me away with his hemp seed ricotta that he smartly baked in vegan quiche shells.
Best by Date
When it comes to eating or drinking anything freshly made at home, the thing to consider is the lack of preservatives. So, with the method below, you make only 1 cup—something easily eaten within the three day window.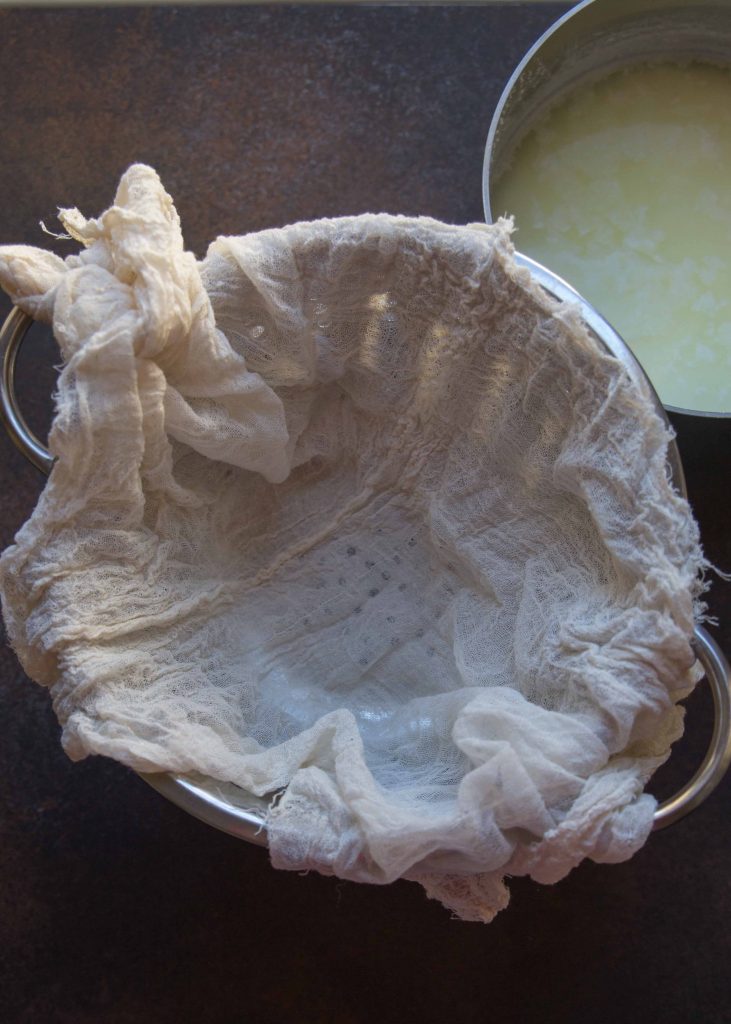 Whole Milk Ricotta by the Numbers
Remember 4-2-1 and you should be able to double or triple the recipe: 4 cups dairy + 2 1/2 tablespoons acid (lemon juice or vinegar) + 1/2 teaspoon kosher salt.
Make Homemade Ricotta Your Own
I love white vinegar for its bright astringent tang, but sometimes, if you want a burst of brightness without as much of an edge, lemon juice comes through better. In this recipe, I use lemon juice squeezed from lemons in my backyard because I want the creaminess of the milk to be the main flavor note and want the lemon juice to be the acidic foil to kickstart the curdling process. However! Make it your own and try using sherry vinegar (this would be lovely if you're pairing the resulting homemade ricotta with mushrooms), or perhaps go white wine vinegar or champagne vinegar. If you're thinking the ricotta will be matched with beets, try balsamic vinegar which will imbue a hint of color and earthy ripe fruit flavor to the mix.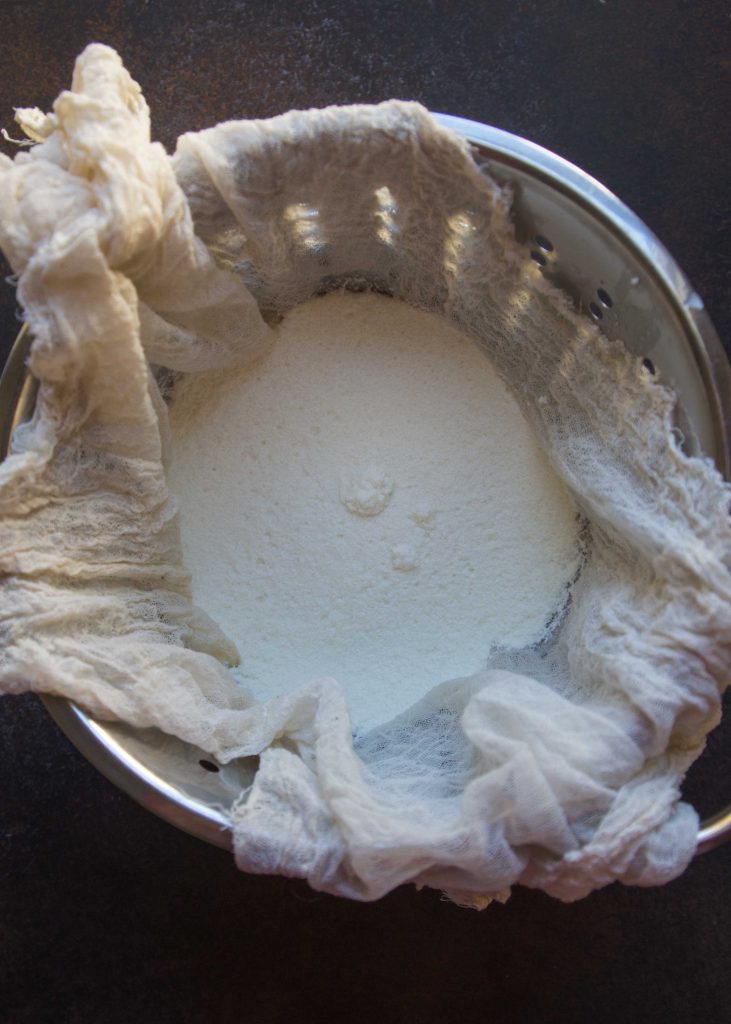 Hot Tip: Hot Infusions
Here's another idea: infuse flavors into the hot milk. Take an ice cream trick and make it work for you by hot steeping everything from broken cinnamon sticks to star anise or cardamom pods broken open, letting the whole spices impart their flavor into the hot dairy. I'm a sucker for teas and you could easily swap in some loose whole masala chai leaves here (or really, any tea you desire), letting the tea steep for 5 to 10 minutes if using black tea before straining out the tea leaves and then proceeding with the method below. You could also stir in ground spices into the milk as you're bringing up to a near boil as another way to more quickly introduce a flavored homemade ricotta.
Make Whole Milk Ricotta Creamier
You could always swap in 1 cup of heavy cream for the dairy below (and it could be interesting to try a test of swapping in 1 cup / partial quantity of the milk for coconut cream to see about making a coconut ricotta—haven't tried it, but am intrigued by the idea of it!) Also, in place of the lemon juice or vinegar, you could swap in buttermilk if you have it handy.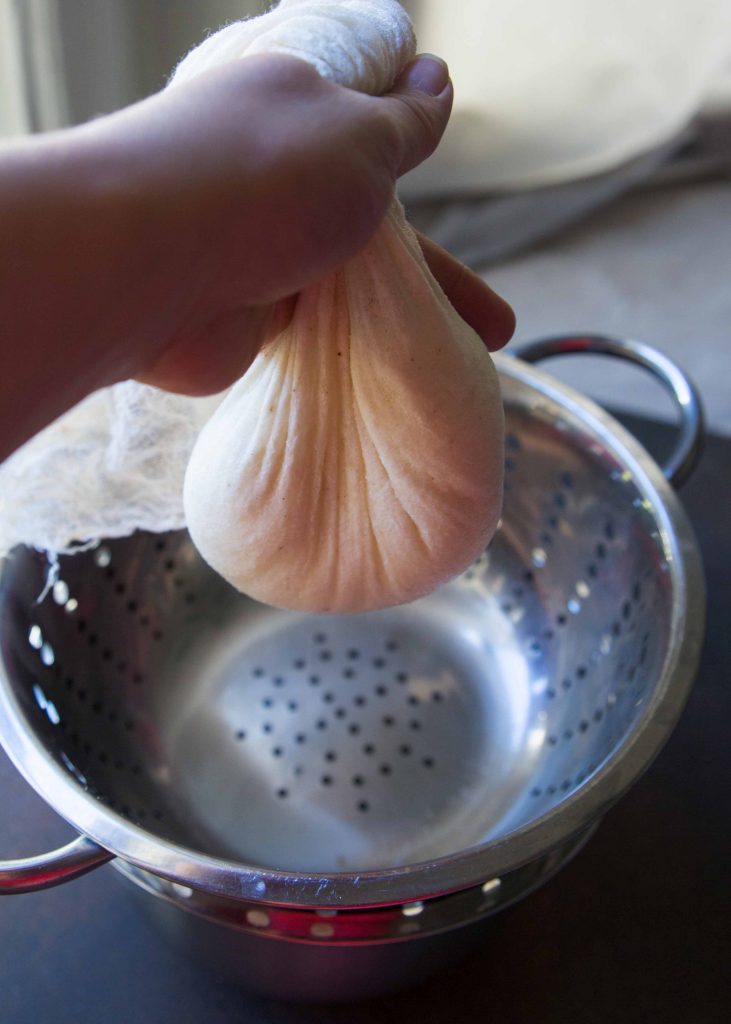 Loose or Tight Curds
Just like curly hair can spring into corkscrew tight ringlets or loose waves, ricotta curds can go either way. So the thing to think about is both how much wringing out to do with the cheesecloth. Resist the urge to pack the cheesecloth pouch tight and fully wrung out of all liquid because as ricotta sets and chills, it will continue to firm up. But, if you want a very firmly set, tight curd, squeeze away.
Look Beyond Lasagna: Ideas for How to Use Homemade Ricotta
Ricotta isn't just for lasagna (though I am ON team lasagna and if you get a chance to take the lasagna class with Chef Viola, do it. She's a marvelous teacher and knows pasta!). But, if you've ever tried really good bread toasted until its top is crisp but the inside is still chewy smeared with just made whole milk ricotta, it might change your idea of what toast can do. SQIRL in Los Angeles popularized ricotta with their fabulous jams on thick cuts of toast and now you can do it yourself at home. Puree it with artichoke hearts to roll pasta into rosettes. Stay tuned here for more ideas and tell me in the comments ways that you like to cook with or use ricotta.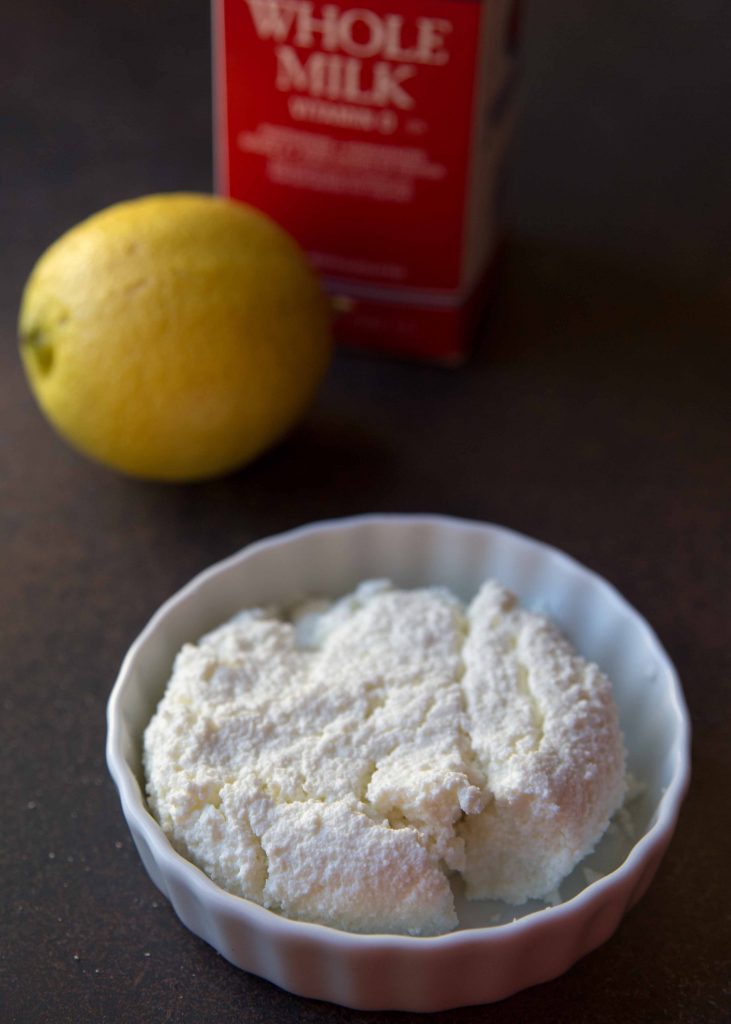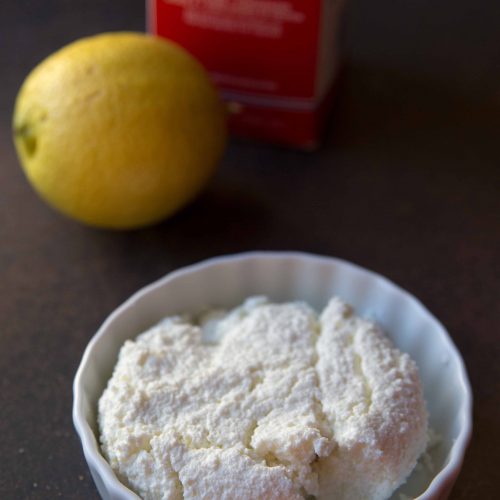 Whole Milk Ricotta
Ingredients
4

cups

whole milk

2 1/2

tablespoons

lemon juice

(white vinegar or buttermilk)

1/2

teaspoon

kosher salt
Instructions
Wrap a piece of cheesecloth over a colander set over a bowl. Set aside.

Bring milk to almost boiling, around 200F.

Using a wooden spoon, stir in lemon juice and salt—it will start curdling. Turn off the heat and set aside for it to thicken for 10 minutes. Transfer ricotta to the cheesecloth-lined bowl.