You don't need another pasta recipe, or maybe you do. The secret sauce that makes this spaghetti sizzle starts with almond cream and comes into its own with a fiery cauliflower condiment that is especially addictive for chileheads. Altogether the spaghetti recipe is vegan and one you can file under vegan cauliflower recipes and make veggies the star.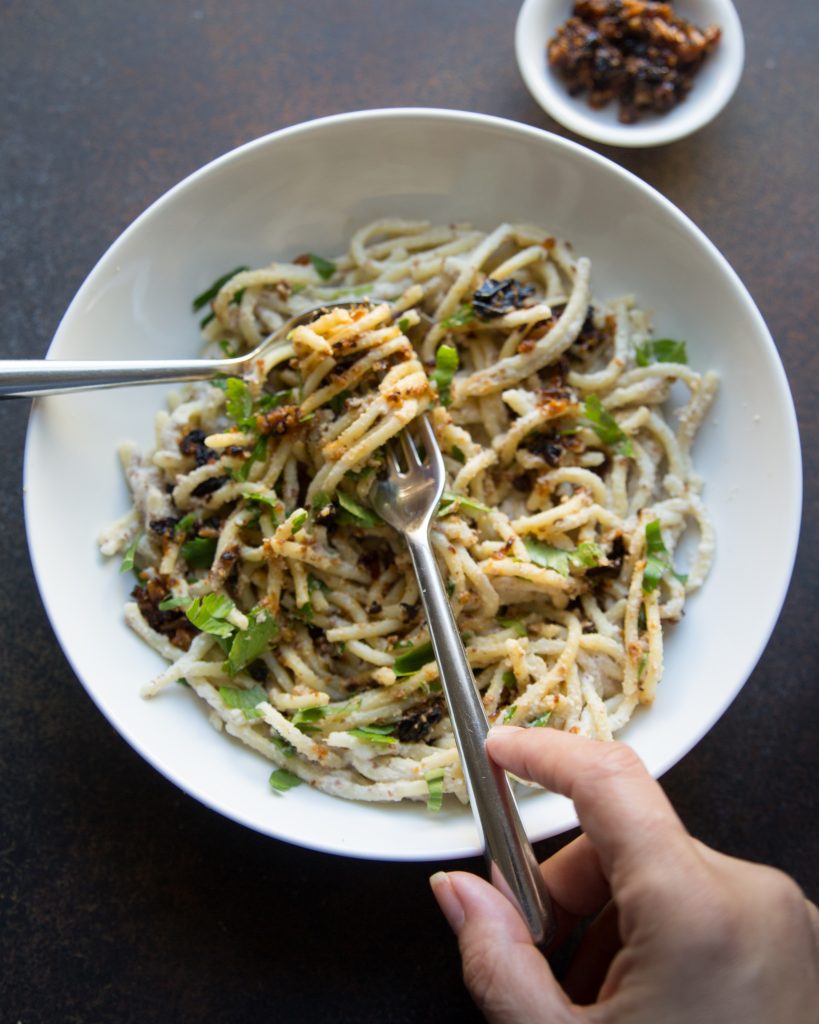 What is Almond Cream
We don't often keep cow's milk cream in the house. It's the kind of refrigerator addition that comes along during pie season and gets whipped for fluffy dollops or churned and frozen into scoops in the summer. Instead, I always try to keep nuts on hand in the freezer. They are my fail-safe solution for creamy sauces.
How to Make Almond Cream
First start by soaking the almonds—overnight is best for the creamiest sauce, but if you're pinched for time, you can also pour boiling water over the almonds and set them aside for 30 minutes to an hour or until you can easily jab them with a fingernail. Then, drain off the soaking water and replace it with fresh water in a high speed blender. Puree the almonds until smooth. If you're looking for a dairy-free cream alternative that whips, almond cream is not it—that job belongs to canned coconut cream.
Are Almondmilk and Almond Cream Different
The main difference between almondmilk and almond cream comes down to one main thing: the amount of water added. Less water yields a thicker, more supple sauce. Either way, you will want to have doubled up cheesecloth lining a colander or nutmilk bag close by to strain out the skins and pulp if making almondmilk. For this almond cream sauce below, I don't strain them out—instead I prefer the bit of texture they add to the dish. Go with raw and unsalted almonds for the best blank canvas for cream sauce. If you only have access to roasted and salted nuts, adjust salt in the condiment recipe to your taste preference.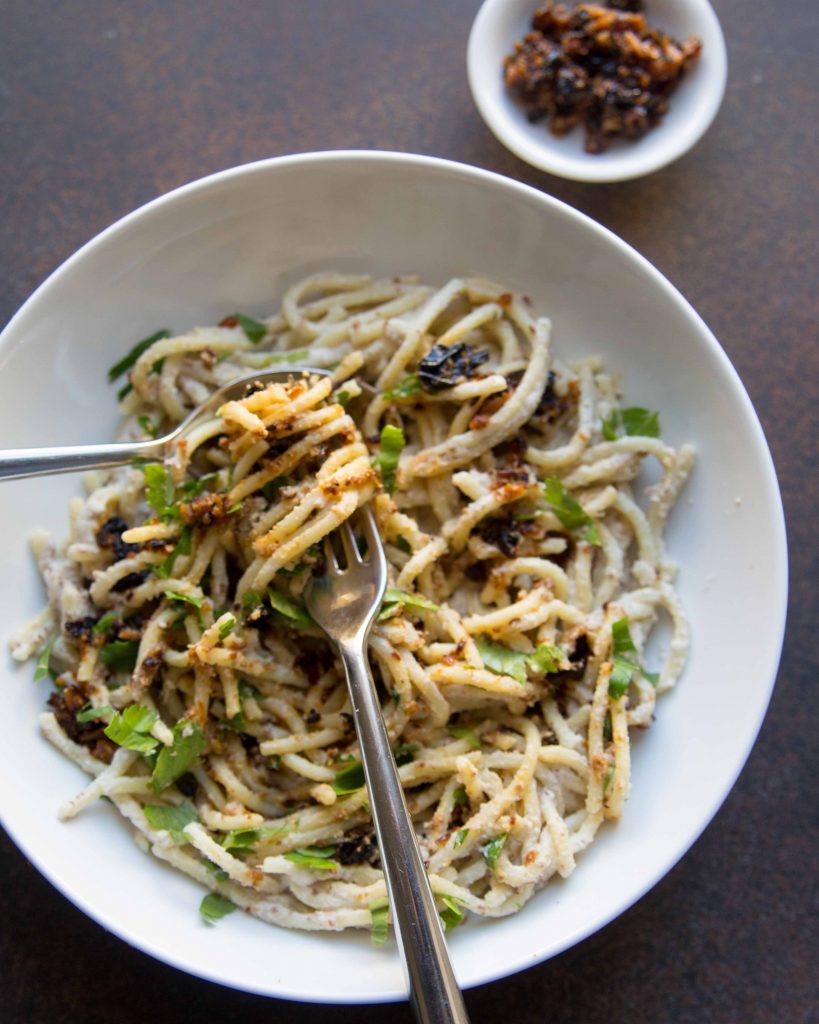 Fiery Cauliflower Condiment
But back to the cruciferous vegetable that makes this whole dish possible. I'm a firm believer that one of the best ways to get more veggies into meals is to consult knife skills. By changing the shape of a vegetable, you might say it makes it new. I'm on the bandwagon of zoodles, crinkles, thick-cut steaks, dicing, ricing—you name it. Riced cauliflower in particular is incredibly versatile—just remember once riced, use within several days as it tends to release more water when cut down and spoils quicker.
This fiery cauliflower condiment is the kind of last minute addition to any dish that will just jazz up whatever it's paired with. Here's the gist: you saute shallots in roasted garlic oil until crisp. Then, the cauliflower and salt are added until caramelized and golden. That's when you add in the chile flakes: a combination of smoky morita (a kind of chipotle so feel free to sub in dried chipotle if you can't find morita), dried pasilla chiles with their raisin-like flavor, and dried chiles de arbol—small and feisty! What once was golden changes to a deep red. The condiment adds as much of a spicy note to the spaghetti as you want based on the size of your spoon and heat tolerance. I like to look for pockets in the individual bowls of spaghetti and add spoonfuls of the condiment to be twirled with a chopstick (but you can certainly toss it all together in a big bowl before plating too). I suggest reserving an extra cup of pasta water to use in reheating any leftovers.
And so, I give you Spaghetti in Almond Cream Sauce with Fiery Cauliflower. May it spark up your dinner table like it has mine.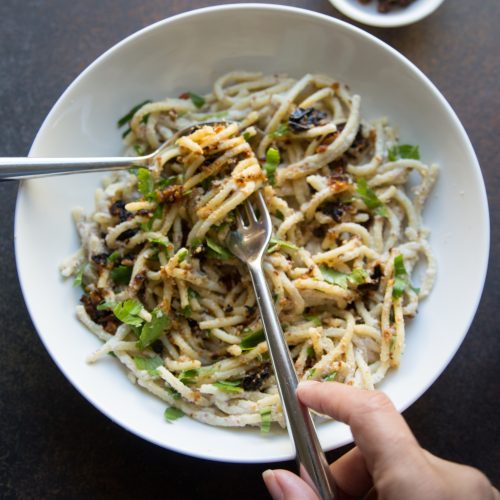 Spaghetti in Almond Cream Sauce with Fiery Cauliflower
Make a double batch of this fiery cauliflower condiment—there's a pretty good chance you'll want to put it on everything. Add this spaghetti in almond cream sauce to your vegan cauliflower recipes collection.
Ingredients
Fiery Cauliflower Condiment
2

dried chiles de arbol

seeded

2

dried morita chiles

seeded

2

dried pasilla chiles

seeded

1/4

cup

roasted garlic oil

(or use a neutral oil like safflower and add 2 whole peeled garlic cloves to the oil with the intention of removing them later)

1

shallot

, finely chopped (1/2 cup)

1

teaspoon

kosher salt

1

cup

riced cauliflower

1

pound

spaghetti
Almond Cream Sauce
1 1/2

cups

toasted almonds

(soaked overnight)

1 1/2

cups

pasta water

(reserve from cooking the spaghetti)

2

roasted garlic cloves

(or make garlic paste from 1 small raw clove)

2

tablespoons

nutritional yeast

1 1/2

teaspoons

kosher salt

1

teaspoon

lemon juice
Garnish
1/2

bunch

Italian parsley

, coarsely chopped leaves
Instructions
With a chef's knife or food processor, chop or pulse chiles to flake size.

Over medium low heat, warm garlic oil until it shimmers. Stir in shallots and saute until crisp, 5 minutes. Add in salt and riced cauliflower. Cook for 3 minutes or until golden. Turn heat to low and stir in chile flakes, stirring and cooking for 6 to 8 minutes or until crisp. Turn off the heat and set aside.

Cook pasta 1 minute less than manufacturer's directions. Reserve 2 1/2 cups pasta water. Drain pasta and transfer back to stockpot.

Drain soaked almonds. Puree almonds with 1 1/2 cups pasta water, roasted garlic cloves, nutritional yeast, salt, and lemon juice. Season to taste.

Pour sauce into stockpot and toss pasta using tongs. Warm for 3 minutes or until thickened with much of the liquid cooked out but not pasty.

I like to plate the pasta in mounds and use a chopstick to nudge pockets in each mound. Tuck a teaspoonful-size scoop of the fiery cauliflower in each pocket. Shower on parsley. Twirl each mound with a chopstick and serve.
Notes
Make a double batch of this fiery cauliflower condiment—there's a pretty good chance you'll want to put it on everything.


Plan on reserving 1 cup of pasta water to use for reheating the pasta if you have leftovers—just add 1-2 tablespoons until it thins out just enough (right before it gets thick and pasty).

Make the riced cauliflower by processing cauli florets for 45 pulses for the right texture.